Lifting The Lid on Astro Empires v2.0
Last year we released the highly anticipated Astro Empires v1.5, well it was only a taste of what was to come. While AE v1.5 was introduced the development team was already busily working at the next level of Astro Empires, the version 2.0. Today, we lift the lid just a little bit and give you your first glimpse of what you can expect and sooner than you might think!
As there are some major changes planned for AE v2.0, we will be launching some of these to existing servers and others will be exclusive to our new servers. All players from Alpha through Pegasus can expect a brand new skin, optimised for both desktop and tablets. Find a sneak peak of the new skin below. We will also be introducing the Orbital Plants, a new energy structure to keep your empire growing as the game progresses, it will make an excellent combo with the others orbital structures and the recent added Anti-Gravity technology.
On new servers there will be Commanders boost, boosts to the Home Planet construction capacity and a number of other tweaks. Along with these changes will be introducing fleet maintenance. Fleet maintenance will bring a whole new level of strategy to the game, it will encouraging activity, more regular battles and skirmishes. It will also allow players to get back in the game easier if their fleet is destroyed.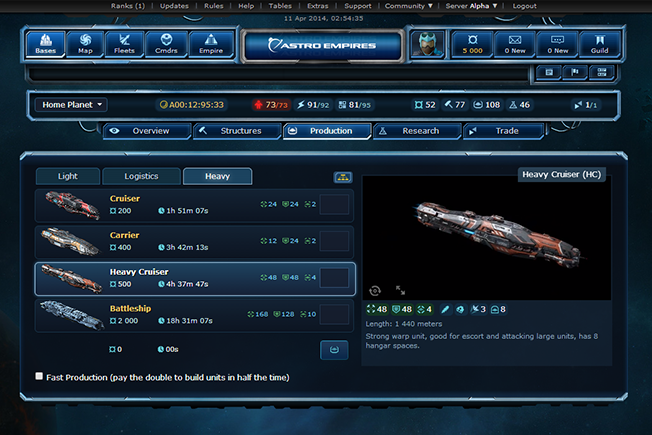 When can we expect Astro Empires v2.0? Well, that's the best part; it will be released next month by the end of May. Watch our Facebook and the Portal for further details in the coming weeks.